Welcome to 4H
We would like to welcome children and parents from 4H to our class page. This will be updated regularly with work that has been completed by the class or any information we need to share with you. We are looking forward to having a super year in year 4 with lots of exciting things to come. Please check this page to keep up to date with the children's learning.
Mrs Hussain (Teacher) and Miss Johnson (Teaching assistant)
Here is some important information that you will need:
4H will have P.E every Wednesday and Friday

Homework will be given out on a Friday and should be returned by Wednesday.

Reading books will be changed on Tuesday.
Playscripts
This week (11.01.16) in English we have been learning about playscripts and we created our own playscript and performed the scene.
Dhol sessions
Some children from 4H have started to learn to play the dhol with Mr Singh.
Welcome back. Hope you all had a fantastic holiday.  We have a fun packed term ahead.
DT
We made robots in DT and used our scientific skills to create circuits to make either the eyes, nose or mouth light.
Science
15/12/15
Today we used 'Now Press Play' and had a fantastic experience learning about electricity.  We found out how to make a homemade torch and what we can use as an insulator.
In Science, we are learning about electricity and we have been creating simple circuits and switches.
Friendship Day
25th November 2015
This afternoon, we discussed the characteristics of a good friend and we should be a friend to all.  As a class we came up with five 'Be':
Be Kind
Be Helpful
Be Friendly
Be Caring
Be Nice
Reading Competition
Year 4 are delighted to be participating in the reading challenge 2015.  We have five class winners.
There were five class winners from each year 4 class and they all went to the next round head to head.  These 15 children have made their teachers and classes proud.  We have two winners from 4H:
Unicef - 18.11.15
Reading Inspire Workshop
17th November 2015
A huge thank you to all the parents who attended the workshop.  We hope you found it beneficial.  Please feel free to contact us if you have any questions.
13.11.15
Today we came into school in our pyjamas and found out more about Children In Need. We talked about how there are many unfortunate children around this world who do not have the basic need. This made us think about our lives and appreciate the things we have.
Welcome back. We hope you all had a lovely holiday.
Black History Day
Friday 2nd October 2015
Today we learnt about the inspirational Nelson Mandela as part of the Black History Day.  We were astonished by his achievement and  all his struggle against the apartheid.  Nelson Mandela is famous for his long fight against bad government and racial prejudice. He is a hero to people all over the world.  He become the first black president in South Africa in 1994.  He was respected for his courage and wisdom in bringing people together to live in peace.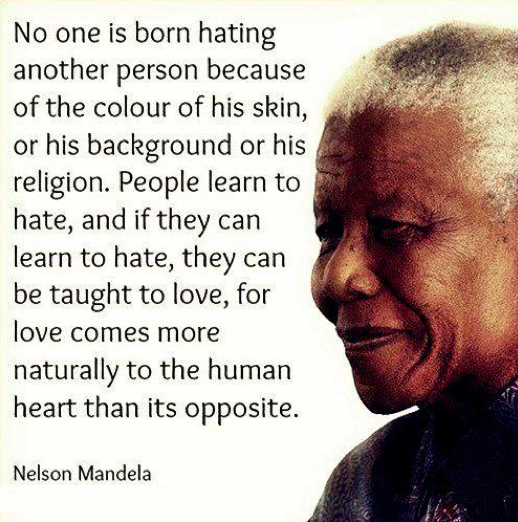 We look forward to meeting you on parents evening on 1st October 2015 between 4pm - 7pm.
Safety Day 18.09.15
Today we looked at three aspects of safety: Road, Fire and ICT Safety. We discussed how we can stay safe on the roads and how being bright will make us more visible on the roads.  We looked at the damage that can be caused by fire and how we may be able to minimise and reduce the risk of fire. As ICT is a major part of our lives, we talked about how we must ensure we remain safe and do not disclose any information to anyone.